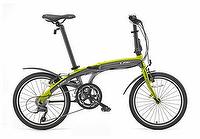 Frame: Alloy-Masking ColorsFork: Alloy Rigid ForkChainwheel: 52TFreewheel: SRAM PG-950 11-34T(9S) Derailleur: SRAM X.7 Handlebar: Alloy Plate HandlebarAdjustable Black Folding StemTire: 20",22"(451), or 24"Folded Size: 85(L)x35(W)x80(H) cmWeight: 12.1kgMultinational Patents Folded System
More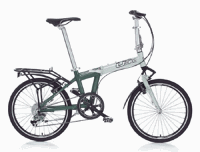 Allrounder Size:22"Speeds:27s, 18s, 9s, 8s, 7sWeight:12.1KGFolding Time:7sFolding Size:85(L) x 35(W) x 80(H) cm SPECSFrame : Alloy 22" FrameFork : TOP GUN T401Chain wheels : 52/42/30TFree wheels : 11-26T(9S)Derailleur : SRAM X7Size : 22"(451)Folded size : 85(L) x 35(W) x 80(H) cm Related Products:"bike, bicycle, sports".
More
News
More
About Us
With over 30 years experience in bike industry, Ubike has certain ability and experience in innovation, quality and service to make consumers satisfied.
Ubike is a cause from the European design team, U(You) means your favorite leisure and exercise folding bike.
Ubike has R&D department and precise computer process device in Germany and Taiwan and owns a suspension fork factory, a painting factory which is conformed to the EN standard- poisonousless process and material/ Ubike has the manufacturing centers in Taiwan and China. All of the products pass EN standard. With the support of our own facility and sources of the talents, Ubike has very big and flexible space to produce your bike very well.
More
New Products